There have been several occasions in my dance and model life where I have had to pay for dance workshops and a photographer via PayPal. The first time this happened is a dancer did this and said she knew she could do it because she was a lawyer. Sometime they did this in a form of a deposit, incremental payments, or full payments. The second experience, I was like just NO. Lets say I started to become smart that my money is refundable due to my bank educating me. There really no thing "NO REFUNDS" when making a purchase. This is especially true when making a purchase with a credit card or debit card. People who run their businesses this way do not do business with them as it is bad customer service. Just take your hard earned money elsewhere. Seriously run away.
For purposes, I will not be shouting out anyone in this post although I would love too as they are huge names in the industry. However, when I have personal conversations with people they chose to still work with these losers and continue the cycle because, who am I right? Ladies and gentlemen you have to be smart. Lets just say they have been doing this for a long time to people. Sometimes I feel that I maybe that first one that has ever thought to cross the line to do this. Like the time, when I was twenty-two and the car dealer sold me a car that was a Lemon, asked for a refund, refused, so I took him to court. Hey, the state I lived in has Lemon Laws, so…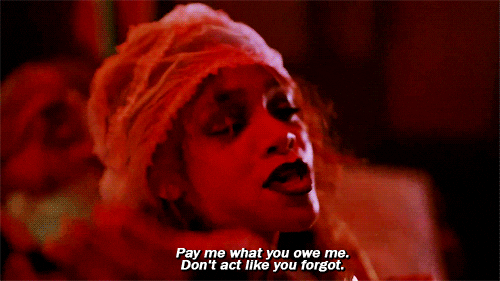 Or they just fake when they say "Thanks so much for the support" and "I work so hard" when they buy new things with the money they steal from people… it is no wonder they say "I LOVE MY LIFE" so much on social media…
As for deposits are not cut dry. Actually, Payment for a service is not earned until the service is performed.  <– Click for run down of this photographers story. Makes sense. Even better when the photographer books your for your time slot and you have proof of it. Much better when you have not even booked an actual date and time yet. Email has been my best friend. I save all messages. Screen shot they are toast.
First, use your credit card and debit card when doing your transaction even when doing this through PayPal. Next, try your best to work with the business owner first. Sometimes that might work as not everyone want to run a bad business. PayPal is the worst when it comes to disputes/claims through these type of transactions. Paying someone for a service is just not the same as purchasing a product that can be traced so PayPal decides not to cover them for whatever reason. In most cases you will have to go through your bank or credit card company to issue a claim. They are much more thorough than PayPal they give you immediate temporary credit as they investigation takes longer. In worse case scenario if they do reverse the temporary credit you can take them to small claims court.
Other tips just because the photographer or dancer is big in the industry do not mean they will be fair with you. They do not care about you they just care about making  money. If you read my blog post The Boudoir Experience there are other tips of how to book a photographer. Make sure they have an actual website and business address. Some just run off Facebook, Instagram, email, and cell phone number is not a good way to get into contact with them because they will just ignore you. However, your bank and credit card will help you get this information if they cannot help you.
If they are asking for any type of monies before booking a date, without answering all your questions, and only use PayPal please ask yourself are they really that reputable or trustworthy? There are many photographers to work with that actually do sit down consultations. The strategy is that they will sell out slots if you do not pay now! Let them sell out. Find someone else. Furthermore, when it comes to dancers some will let you sign up without having to pay until you get to class. They either have credit card machines on their phone or, pay cash when you get there. Options are endless. You do not need to force yourself to do things that are not necessary.
Unfortunately, I closed my PayPal account over the weekend because I was sick of their policies. There are just too many problems with this company. Until they change their ways I will not be coming back. Which they have been around too long to do that. I will have to only do business with  businesses that use other forms of payment. Use something else people. Now I am even thinking the times I have paid for a photoshoot I have not always even paid a deposit so I probably not even going to bother doing that either. Kind of like when I decided to not have a cellphone plan and still end up with a top of the line cell phone.
There are always ways around something.