After I feel like a complete FAIL after attending the Pinup Girl Clothing   (PUG) Parade at Disneyland over the weekend just because…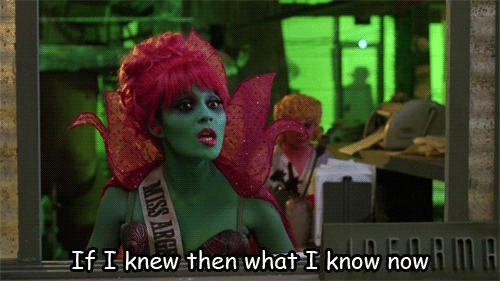 I would have thought things out better. First, I am much used to preparing for dance related events in which I know how to keep my makeup on and deal with sweat but, when it came to my hair and outfit not so much. Usually, with dance my hair has been one way either down, with a head band, or up in a bun. I had gotten use to the fact that my hair would be gorgeous looking in the beginning and then would end up flat after a few dances since I sweat so much from my head.
Makeup was easy. Okay, okay if you find a brand that works for you and apply a lot of it stays on. Honestly, my face has changed over the years since I went from being in my twenties to thirty-nine so my makeup strategies have had to change without the help of a makeup and hair stylist. Always have to change the type and brand of makeup to go with the flow of agin. My makeup lasted all day except for my E.L.F eyelashes that fell off once those California winds started blowing.
Then, my hair. I took the time out a week before practicing the hairstyle I wanted to do because I wanted to do something different from what I had done in photo shoots I had done that were Pinup related. My hair is not like it was in these pictures. My hair was in the humidity of New York City and not colored. Plus, since these are photo shoots I was indoors, not outside for a long tie, or not moving around much. I did do a pinup shoot outside at the beach once and did the smart thing of wearing a scarf over which turned out cute. Now after a decade it has some sparkle (gray hairs), I live in the dry desert of the Southwest, and I decided to have it highlighted last year. Most recently I went to a stylist that made it damaged so it is really dry and well I thought easier to manage for .
Another thing was my outfit. With dance I usually have a bodystocking that is fairly comfortable and made for my body. I guess too I had become use to wearing them that they just had become a staple in my wardrobe like wearing tights. Plus, bodystockings that are worn in dance or at least the ones that I purchase take weeks to make as they are custom so they fit extremely well making them comfortable. With this being said, with Pinup I was not really interested in having to wear shapewear or having to wear a corset all day long at a theme park to make my outfit fit well or look good. It was also a mission to find an outfit that I could wear on a regular basis like to work or out and that was comfortable. I went with the Deadly Dames Jailbird Top by PUG, a wide belt by Torrid, and the Philomena Skirt by Rue 107.
There was a photographer at the event so if the photo posts before my chaos I will update the blog. You can check out my Instagram for photos.
Everything was great until we started our drive to Disney. The bumpy highway caused my hair started to fall even though I pinned and sprayed it. Once I got outside the wind started blowing and my hair started to fall. At the entrance, I got to the bathroom only to discover that there were no mirrors. Assuming that the whole park had no mirrors, I made my husband hold my small pocket mirror every time my hair fell. Then, the eyelashes started flying off. No way was I going to keep fixing them so they went right in the trash.  Furthermore, I thought I would be saved from not wearing shapewear but boom it was that time of the month and I ended up being shaped like a P'apple by noon in which my belt started to get tight.
P'apple  – the shape of a pear and an apple.
So now my belt was being swallowed by my back and butt. With my hyperextension of my knees I always look pregnant, just picture this in your mind. Eventually, I could not take it,  gave up, and threw my black denim jacket back on in the heat. That was not a bad thing either because I did not realize I was starting to get sunburned because I forgot about the sunscreen. It was terrible Pinup wearing experience. However, I learned something.
Next time, if there is one I need to make sure that I use sunscreen. I have a terrible sunburn on my shoulders and my scalp. Even this Polynesian babe burns. This could coincide with my hair either do something simple that can last with any weather and wear a hat or a scarf to cover. I mean I have plenty of hats for Pinup! Plus, I noticed some of the pinups had parasols which is another great idea. Just like shapewear, I cannot do belts. Like I am sure with others my waist changes through out the day or during times of the month. It just is what it is. Not sure if it is because most of my daily wardrobe consists of scrubs, yoga, and dancewear but my body was just saying no.
The things I did do great was my makeup, I bought some great chub rub underwear and shoes. I used Lorac foundation, which I must say is great for my thirty-nine year old visible pore and combination skin. Just had to top it off  with E.L.F. translucent loose powder. Plus, my feet were well taken care of. My day job as a Registered Nurse I am on my feet for hours at a time so I know I cannot wear dressy shoes to be comfortable when it comes to walking around. So I wore glitter Toms, with white ankle socks, and I had no issues.
All in all I was extremely excited that I seen some familiar faces, scored a grab bag, seen some ideas for next time, and of course experienced my second Disneyland vacation!